Austin & San Antonio Dumpster Rental
Let Us Haul Your Commercial Waste
Central Waste & Recycling can handle all commercial waste management and removal within Austin and across the whole of Central Texas.
We offer environmentally friendly waste collection and disposal providing dumpsters and open top style containers to Texan businesses, offices and commercial worksites.
We have a range of disposal solutions for commercial use suitable for all project types including temporary and reoccurring rental requirements.
See below additional information on specific sizes, dimensions and load capacities below as well as service types we supply.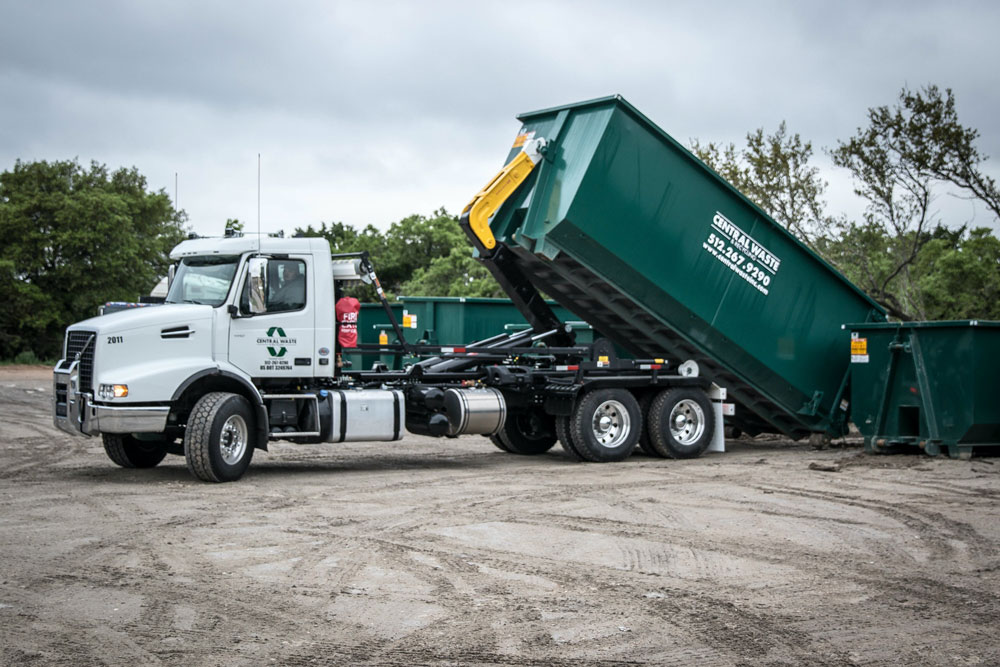 Roll-off dumpsters are the perfect choice for that small, office or restaurant clean-up and are ideal for weekly collection requirements.
Popular with every commercial site from convenience stores to small industrial sites, renting a roll-off dumpster is by far the most convenient form of waste disposal and collection Austin has to offer.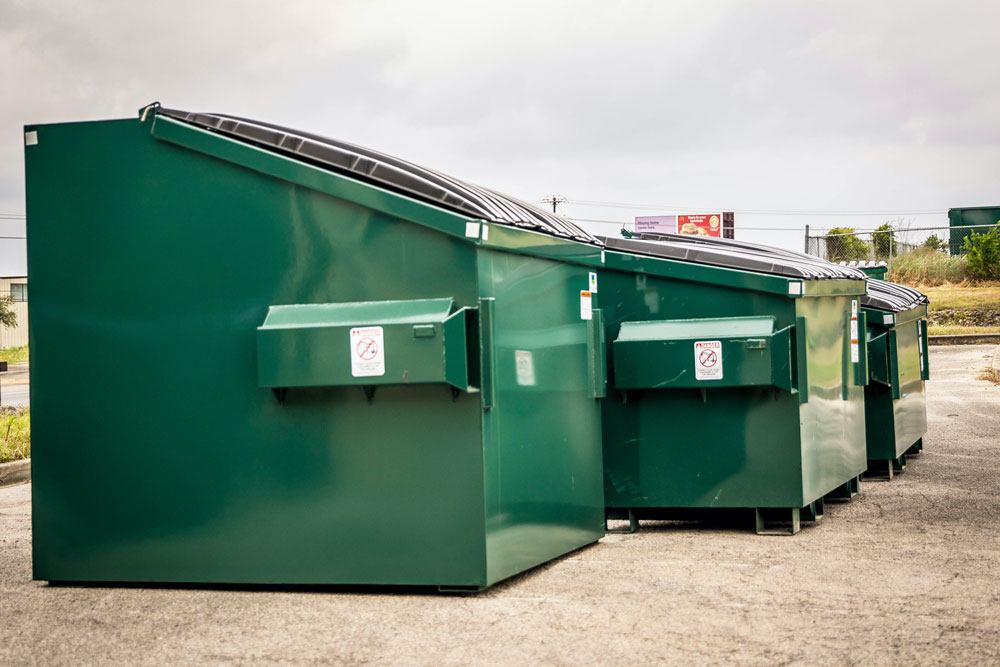 We supply a great selection of roll-off dumpsters that are available in sizes from 3-yard dumpsters to 8-yard dumpsters that will hold up to 1000lbs of waste. Please see the chart below for specific dimensions and load capacities.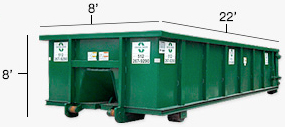 Construction projects and large-scale worksites require a substantial amount of waste collection with a frequent pickup and exchange schedule.
We supply larger, open top dumpsters on a temporary basis to commercial worksites for a convenient means of disposal for building materials and other items swiftly and effectively.
Our temporary construction dumpster rentals range in 20-yard, 30-yard and 40-yard containers offering plenty of space for proper commercial waste removal. See the chart below for information on dimensions and load capacities.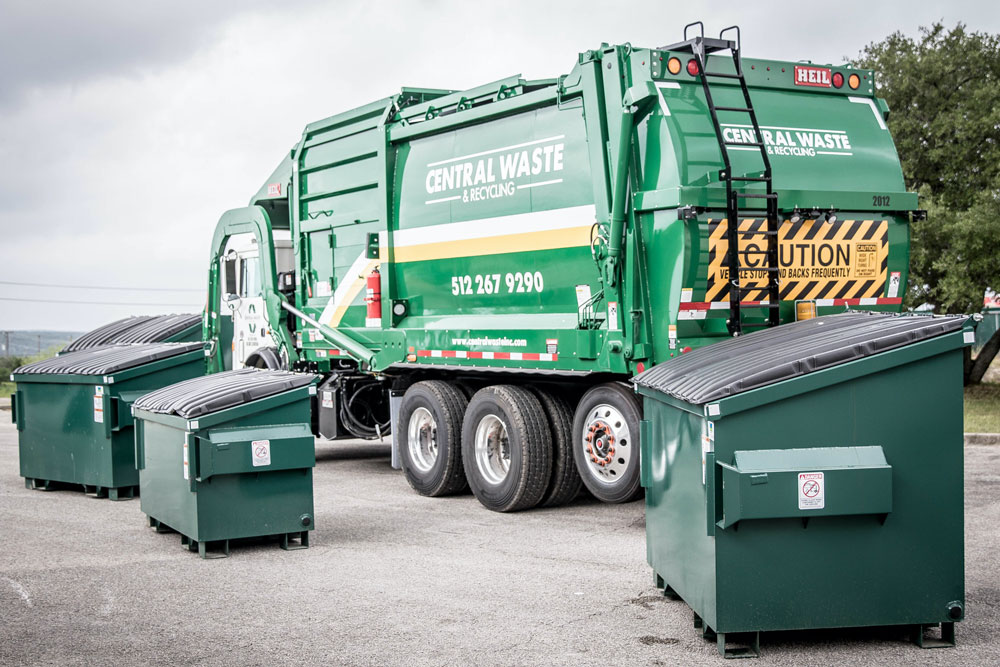 Finding a local waste management company that's trustworthy and reliable to deliver and collect on time can be difficult. Consistency is important. This is especially crucial if you're a business with large amounts of waste and are unable to operate effectively on a weekly basis with overloading trash capacities.
At Central Waste & Recycling we pride ourselves on punctuality and dependability to keep your business running at its best without worrying about trash removal solutions.
We can organise a reoccurring collection schedule for all types of commercial waste ensuring you've always got a dumpster ready for trash disposal.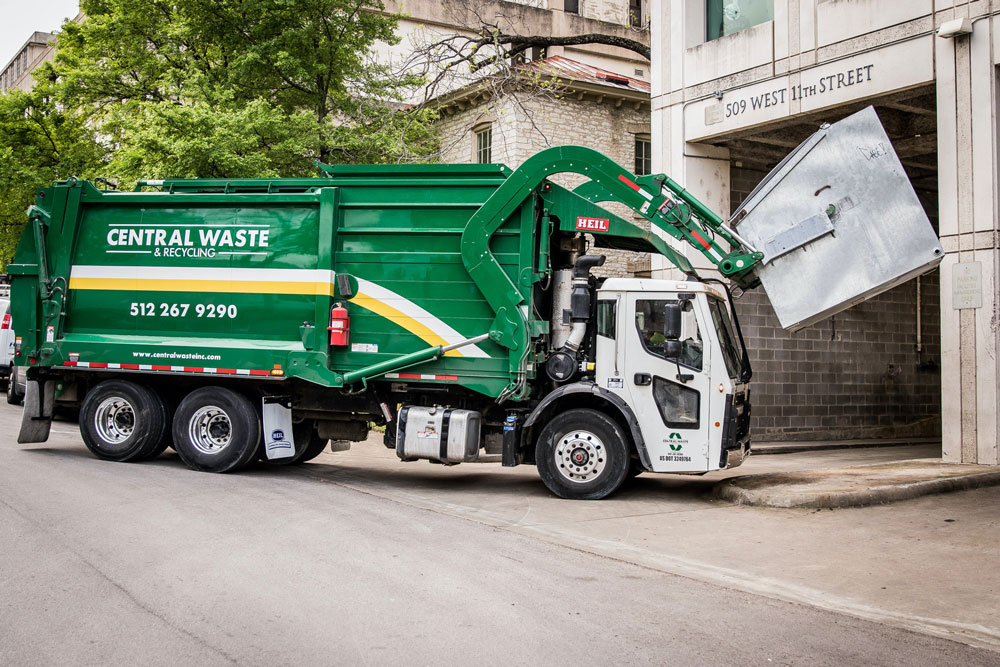 Front Load dumpsters are the easiest way to keep your commercial waste hidden. These can be placed in a discrete location near your business to keep your trash out of public view.
Great for both smaller offices and larger industrial complexes, front load dumpsters are a well-suited commercial trash removal option for all waste streams.
These are generally more suitable to circumstances where a 3 – 8-yard roll-off may not be practical or sufficient so it's important you give us a call to discuss your specific needs.
Contact us today and inquire about our dumpster hire and commercial waste collection options.
Alternatively, please see our Residential Waste Solutions page for information on domestic, construction or general household waste management and removal.
We haul everything except hazardous waste.
Dumpster
Dimensions (L x W x H)
Max. Load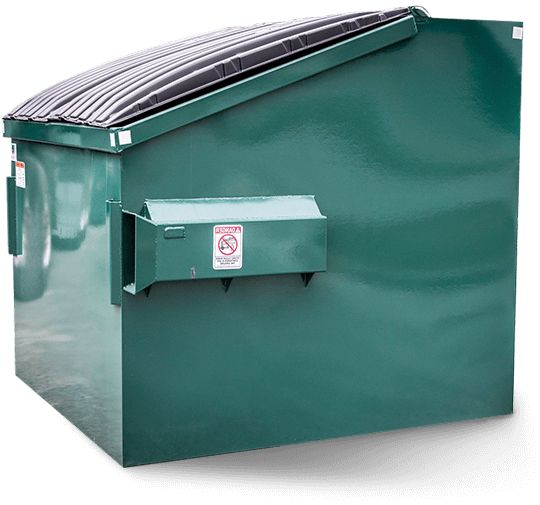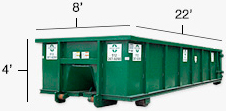 20 yard dumpster
Ideal for:
Large home renovations
Siding or deck removal
New home construction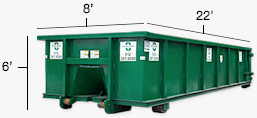 30 yard dumpster
Ideal for:
Large home renovations
Siding or deck removal
New home construction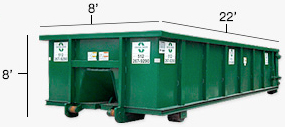 40 yard dumpster
Ideal for:
Large home renovations
Siding or deck removal
New home construction
Austin Owned & Operated. Service You Can Trust.